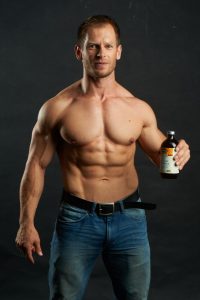 Hi guys,
I haven't been here for a while. The last time what I remember was New Years Eve 2018 – I was in Italy, Rome and had a really great time flexing in front of the Colosseum. Year 2019 was a very busy year with lot of changes in my life. But we are already in 2020 so let's get to that.
Udo's Oil Blend – I have been using this miraculous oil for more than 13 years by now.  Hence the name of today's blog – Oil the machine.
Oil the machine is the name of the campaign for Udo's Choice respectively Flora Manufacturer in Canada.
There are plenty of benefits using Udo's Oil – it is organic, raw, vegan, rich in Omega 3 and Omega 6. I suggest using it mainly for sustaining your energy levels, balancing your hormones, and supporting your healthy and strong heart. But it is also great for your skin, nails, and hair.
Before my contest I always used more of it – up to 6 to 9 TBSP daily with fantastic results! I say if you want to burn more fat – eat more healthy fat.
I opened our internet online shop in 2015 – www.udoschoice.cz and it has been more than five years we've been running our little online shop.
I would like to thank you Udo's Choice – Flora and our German partners for great support and for this amazing product we can have in Prague, Czech Republic.
Oil the machine – for more information about this campaign check Flora website www.florahealth.com
Martin Petro
Wnbf Pro Natural Bodybuilder